Cost to Paint or Stain a Fence
The price of having a professional paint or stain your fence averages $2,000. Homeowners could pay anywhere between $750 to $4,250 depending on the condition, height and length of the fence. Costs average $3 to $17 per linear foot or $1 to $2.50 per square foot. The cost of paint or stain, before labor, is $240 to $600.
Building a fence runs most homeowners between $1,500 and $4,000 but adds value to a property by enhancing security, defining boundaries and increasing curb appeal. However, proper fence maintenance is important. Painting or staining will keep it looking its best as well as protect it from the elements. Finish the job quickly and correctly by hiring a qualified pro.
Overall, having your fence painted will run $750 to $4,250 which normally includes preparation, the cost of materials and labor. The type of fence you have, along with overall length and height, will have a major impact on that price.
Fence Painting or Staining Prices by Type

| Type | Avg. Per Linear Foot |
| --- | --- |
| Wrought Iron | $8.70 |
| Wood & Cedar Picket | $3.50 |
| Wood & Cedar Privacy | $7.50 |
| Metal & Aluminum | $8.70 |
| Steel Pipe | $8.00 |
| Chain Link | $6.80 |
| Shadow Box | $13.00 |
Wrought Iron Railing
Having a pro paint a 250-foot fence will cost about $2,170. Wrought iron of the more attractive and decorative types but is also one of the more difficult to paint. A pro will first start by removing any rust with a wire brush. Depending on the condition of the metal, they may apply a coat of rust-proof primer before the final coat, increasing the cost of the job by up to $1,250.
There are two popular methods: brushing or spraying. Spraying is faster, so the labor rate will be lower. However, it uses more material and the workers need to be careful not to spray objects nearby.
Picket: Wood & Cedar
A picket fence 250-feet long and 3 feet high will cost $875 to paint. It is important to remove any loose or chipping paint from before applying the new coat. If the old paint is in poor condition, there may be an extra cost to the preparation.
If the fence is new or was previously stained, staining is often the better choice. Staining does not need as much preparation and so the extra amount can be avoided. Picket fences tend to be shorter (48 inches or less), so they are typically cheaper to refinish.
Privacy: Wood & Cedar
Privacy fences are usually a minimum of 5 feet, so they will need more stain. The intricacy of the wood work will influence the price with the average being $1,875 for 250 feet. If your design has lattice at the top or scrolling woodwork, the labor price goes up.
Metal & Aluminum
Decorative aluminum fences are similar to wrought iron when it comes to painting. The cost being the same at $2,170 for 250 linear feet. However, they will not rust, so they may need less preparation. Remove any loose paint before starting.
Steel Pipe
At about $2,000 to paint 250 feet, these types are found around acreages or large yards that have horses. Professionals will often use painting mittens to do the work which makes the labor go quickly. The pro slides the mitten on to his or her hand, dips the mitten into the paint, and rubs it on to the metal.
Chain Link
It's a little cheaper at $1,700 for 250 feet because it doesn't need as much paint. Cut back bushes and trees that are growing through the chain link before starting. If the mesh is rusty, the painter will start with a rust proof primer before applying the top coat, adding up to $800 extra for the job.
Shadow Box
Due to their alternating slats, these are one of the more labor-intensive designs to paint and therefore one of the costliest at $3,250 for 250 feet. Preparation is also difficult as scraping any loose paint off can be tricky, due to the difficulty of working between the alternating boards. If it needs a lot of preparation, it will increase the price of the quote.
Get a Quote from a Painting Pro
Average Labor Prices per Linear & Square Foot
A professional will charge you in one of two ways for the job, either per linear foot or per square foot of surface area. On average, a homeowner pays $8 per linear foot or $1.50 per square foot.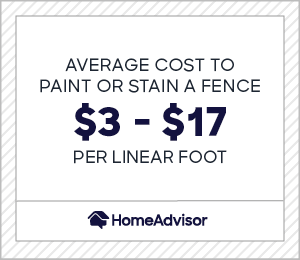 The quote will usually include materials as well as preparation of the surface. Removal of debris or shrubs that interfere with the work may not be included, so talk with the pro to see what their expectations are.
Here are some examples of factors that affect that price: paint versus stain, number of panels and number of coats needed. The intricacy of the design, access to the property, and height of the fence are also factors. Anything that will cause the job to take more time will increase the total cost.
| Painting | Staining |
| --- | --- |
| $36 per gallon | $24 per gallon |
| Covers more, making stain vs. paint material prices about the same | More is needed to cover a surface than paint |
| Can chip and peel over time, requiring old paint removal before recoating | Fades over time, but a new coat can be added on top of old |
| Extra preparation can add up to 50% to the project cost | No extra cost to prepare a previously stained surface |
| Could require two or more coats | Only needs one coat |
In general, painting will be the more expensive than staining.
Number of Wood Panels
The more intricate your design is, the more expensive the job will be because of the labor it takes to complete. If your fence has multiple panels or alternating boards (a shadow box style), then the cost will be higher. A privacy fence with boards spaced close together and all on one side will be easier - and cheaper - for workers to paint.
Number of Coats
Multiple coats will drive the price up, although it isn't as simple as doubling the cost for materials or labor. The second coat will go on easier over the first, requiring less paint. Extra coats are necessary if you are drastically changing the color. Rusted metal could also need an undercoat of primer.
Restaining vs. New Fence Painting
A new wood fence needs very little preparation and will be cheaper to stain. Power washing isn't necessary and bushes and other obstructions will already be removed from around the construction area. Repainting or restaining older boards will have more preparation, driving the cost up.
Find a Paint & Stain Service In Your Area
Pressure or Power Washing & Other Costs to Prepare
Pressure or power washing is a fantastic way to prepare for a new finish. It will remove loose paint and grime that may keep the new coat from sticking. Having your fence prepped with power or pressure washing costs between $250 to $500.
Before painting, consider pruning shrubs and removing other obstacles. Also, replace any broken or missing boards. You can expect to pay $25 to $30 per hour for these types of service.
When you receive a quote for the job, it may or may not include area and surface preparation. Make sure to read the fine print and discuss the quoted services with the professional so that you know what's included. If preparation is part of the price, the pro will handle the work or subcontract it to another group.
Staining vs. Replacing
Before going to the expense of refinishing, you'll want to assess whether it's time to replace. The cost to repair a fence is higher than that of staining, but you won't want to invest in the project if it isn't stable enough to survive the next season. Check for any damaged or rotting posts. A few broken boards can easily be replaced.
DIY vs. Hiring a Professional Painter
Painting or staining a fence is a messy, time consuming job. It is also one that doesn't need vast expertise, so it is possible to DIY. Having the right equipment is key. Knowing the right brushes or rollers to use and when to spray versus brush is important. Weather also plays a key role when doing a job that might stretch out over a few weekends.
Hiring a painting pro will get the job done quickly and correctly and usually includes a limited warranty to come back and do a touch up for any missed spots. Weigh the cost of a DIY job at $500 to $700 for supplies and tools plus the time you'll spend doing it against $2,000 for a pro.
How much does fence stain and paint cost?
Paint is more expensive at $36 per gallon versus stain at $24 per gallon on average. If a professional is doing the job, usually the materials are part of the total price.
How much stain/paint do you need?
The size of your fence will be the biggest variable when calculating how much material you need. As a rule of thumb, one gallon of paint will cover 200 square feet and one gallon of stain will cover 160 square feet. See the chart below for more detail.
Paint & Stain Needed to Cover a 6 Foot Fence

| Per Gallon of | Square Feet | Linear Feet |
| --- | --- | --- |
| Paint | 200 | 33 |
| Stain | 160 | 27 |
What colors or stain or paint are available?
Natural colors ranging from light browns to greys are the most common for wood. White is also a popular choice. Metal is traditionally black, although white is also common. Look around your neighborhood and see what others are doing. You don't want to deviate too far from what others have. Your Home Owners Association may also have rules that cover color options.
When is the right time to stain your new fence?
Wood needs to dry before staining. Wait six to eight weeks after installation before staining your new fence.
Find Fence Staining Pros Near You
Thank you for submitting your feedback.