Cost to Replace Central or Forced Air Blower Motor
Replacing a blower motor costs $450 on average with a typical range of $250 to $800. With a warranty, you might pay as little as $150 for labor alone. For high-end models, like those with large motors or access issues, you might pay as much as $2,000.
Both your furnace and air conditioner share the blower motor, so it's really a replacement for both. It sits inside the air handler. It blows air into your ductwork over the heating coils from your furnace and evaporator coil for your AC, which are both placed in line between the blower and the ducts.
Furnace Blower Motor Replacement Cost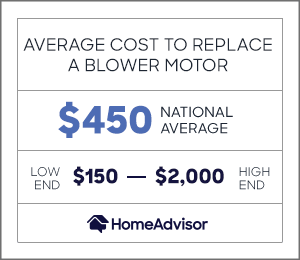 Replacing a furnace blower motor runs $250 to $800 for most people. If you also have an AC unit, they use the same blower assembly, so you don't need to pay twice. Most furnaces come with one installed in the unit in line with the heat exchanger.
Home AC Blower Motor Replacement Cost
Replacing the blower motor in an AC unit costs the same as a furnace since they share this mechanism. Expect to pay $250 to $800 on average. You might spend up to $2,000 depending on the brand.
A couple important notes to remember:
Don't confuse the blower motor with the AC condenser fan which sits inside your outdoor air conditioning unit.
If you only have an AC and you're considering purchasing a furnace, you'll likely get a new blower as part of the furnace. In this case, replacement costs you nothing additional.
Find a Local Pro to Replace Your AC Blower Motor
HVAC Blower Motor Replacement Costs
An HVAC blower motor replacement costs an average of $450 but anywhere from $150 to $2,000 to replace. It doesn't matter if you have a gas furnace, electric or heat pump, they all use an air handler blower motor to push the air throughout your home's ducts.
Radiated heat and mini-split systems don't have an air handler. These systems use radiated heat in each room and don't need ducts.
Blower Motor Installation Cost
Labor costs to install a blower motor costs $150 to $250 total. Most of that cost comes from trip fees and labor.
Furnace repair service calls cost $100 to $200 minimum, but usually include the first hour or two of work.
An HVAC technician runs $75 to $125 per hour.
It typically takes 1.5 to 2.5 hours to do the job, including inspection, diagnosis, removal, installation and final testing.
AC & Furnace Blower Motor Replacement Cost
HVAC fan motor replacement costs $100 to $2,000 without labor but usually includes the entire unit with the motor, fan and housing. You might save some money replacing the motor alone. Most home AC and furnaces use the following sizes.
Blower Motor Prices

| Horsepower | Price |
| --- | --- |
| 1/4* | $100 - $550 |
| 1/3* | $100 - $800 |
| 1/2* | $120 - $1,000 |
| 3/4 | $175 - $1,500 |
| 1 | $250 - $2,000 |
*Most common residential sizes.
| | |
| --- | --- |
| Belt | $5 - $100 |
| Bearing | $20 - $150 |
| ECM Repair Kit | $40 - $60 |
| Shaft | $50 - $200 |
| Blower Wheel (Squirrel Cage) | $50 - $275 |
| Pulley | $50 - $250 |
| Housing | $100 - $300 |
| Capacitor | $150 - $450 |
| ECM Motor Module | $230 - $830 |
Compare Quotes to Repair Your Furnace Blower
Blower Capacitor Replacement Cost
Replacing a blower capacitor costs $150 to $450 on average. The part itself doesn't usually run more than $10 to $30. Most of the fees come from the time it takes to find, test and replace it.
A bad capacitor can slow fan speeds, causing symptoms similar to a bad motor. Always check it first.
| | |
| --- | --- |
| Rheem | $250 - $900 |
| Carrier | $100 - $1,600 |
| Trane | $175 - $1,500 |
| Lennox | $150 - $1,500 |
| Goodman | $75 - $800 |
| York | $150 - $1,800 |
Single vs. Variable Speed Blower Motor Cost
Variable speed motors cost 50% more than single speed motors.
Single speed: $400-$500 on average. Running at one rate, they're less efficient but much cheaper. Usually come stock in low efficiency models.
Variable speed: $600-$800 on average. Found in all high efficiency models, they use varying speeds to reduce power usage and provide more consistent temperatures. They also tend to be quieter.
PSC vs. ECM Motor
Older PSC motors are cheaper and came standard in all older and current economy models of furnace and air conditioner. But before you replace that PSC with another of the same type, you might want to know the differences.
PSC: Permanent Split Capacitor. It's either on or off with one speed setting. Higher energy usage but cheaper upfront price.
ECM: Electronically Commutate Motor. Decreases energy usage by up to 75% compared to PSC. Multiple speeds means more efficient air movement and energy use.
Find the Right Blower Motor for Your HVAC System
Blower Motor Repair Cost
Repairing a blower motor costs anywhere from $150 to $1,500, depending on the actual problem. Worst case means replacing, which can run upwards of $2,000 with labor.
DIY vs. Hire a Professional
You'll find this a tough job for the average DIYer, but doable. While you have little risk of harming other equipment or yourself, you might be replacing a perfectly good motor. A couple questions you might want to ask before tackling this:
How do you know it's the blower motor that's gone out?
Have you solved the root problem, which, if left alone might blow another motor?
Modern ACs and heaters are complex machines with multiple points of failure from the motor to the circuitry. Don't replace anything until you know what the problem is. Call an HVAC professional near you for a complete inspection.
What is the difference between a furnace and AC blower motor?
There is no difference between an AC and furnace blower motor. If you only have an AC unit, you'll have one in your air handler inside the home. If you only have a furnace, you'll have one inside the furnace. If you add an AC unit to a furnace, it'll use the existing one.
How much is a blower motor?
Blower motors cost anywhere from $100 to $2,000 depending on the size and brand.
How long should a furnace blower last?
The blower should last as long as the furnace, or an average of 15 years.
How do you test a furnace blower motor?
The best way to test a furnace blower motor is to have a professional do it. Otherwise, you'll need a multimeter to check the ohms on the windings and test the capacitor with a capacitor tester.
Where is the AC blower motor?
The AC blower motor is in the air handler within your home. It's usually in the basement, a utility closet or the attic.
What is an AC blower motor?
An AC blower motor is the same thing as one used in a furnace. It's a motor attached to a wheel fan that blows air through your evaporator coils and into the ducts.
Still Have Questions About Blower Motors?
Thank you for submitting your feedback.