Black Chain-Link Fence Costs
On average, installing a 150-foot-long and 4-foot-tall black chain-link fence costs $1,700 to $2,900. However, adding height, a thicker gauge mesh, or installing it on difficult terrain can increase the price to $7,500+. For most residential projects, expect to pay $5 to $25 per linear foot for materials. Labor runs an additional $8 to $20 per linear foot or an average of $30 per hour.
This type of fence is nearly impervious to moisture and corrosion. While it won't last much longer than its cheaper galvanized counterpart, it will suffer less rust and discoloration. As with any chain-link installation, you have four major cost considerations:
Height
Quality and gauge of the wire mesh
Size of the mesh holes
Difficulty of the terrain
On Page:
Average Cost to Install a Black Vinyl Chain-Link Fence
| | |
| --- | --- |
| Average Cost | $2,300 |
| High Cost | $7,500 |
| Low Cost | $1,700 |
Black Vinyl-Coated Chain-Link Fence Costs Per Foot
Vinyl-coated chain-link costs $13 to $40 per linear foot. You'll pay $5 to $20 per linear foot for materials and an additional $8 to $20 per foot for labor.
Average Vinyl-Coated Chain-Link Fence Costs

| Height | Materials per foot | Total per foot |
| --- | --- | --- |
| 4' | $9 | $21 |
| 5' | $10 | $22 |
| 6' | >$11 | $23 |
| 8' | $13 | $25 |
| 10' | $20 | $32 |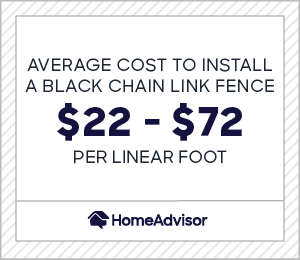 Average Cost of Black Chain-Link Fence Installed
If you purchase the materials yourself, expect to pay between $15 and $25 per hour for a handyman or $25 to $50 per hour for a professional installer. Overall, you'll end up spending $8 to $20 per linear foot for labor.
Black Powder Coated Chain-Link Fence Prices
Vinyl or powder coated chain-link materials make up about 50% of the total project price, or between $5 and $20 per foot. If you're planning to do an install yourself, you can purchase complete kits from specialty suppliers that include all the following parts.
Residential Chain-link Fence Part Prices

| Part | Price |
| --- | --- |
| Wire mesh | $2 - $10 per linear foot |
| Posts | $2 - $3 per foot |
| Rails | $2 - $3 per foot |
| Post cap | $0.50 - $15 each |
| Post fittings | $1 - $6 each |
| Tension Bars | $5 - $20 each |
| Cement | $5 - $15 per post |
| Truss Rods | $5 - $15 each |
Black Chain Fence Gate Pricing?
Adding a gate onto your project adds another $150 to $500 for a residential style or $1,000 to $2,000 for a commercial rolling gate.
Find Fence Installers
Vinyl-Coated Chain-Link Fence Costs
A 100-foot long an 4-foot tall vinyl-coated chain fence costs $1,000 to $4,800. Add $1,000 to increase it to a 6-foot height. It comes in standard colors of black, white, green, brown, gray, redwood and beige. Custom colors are available though it may drive the price up and delay installation.
Types of Vinyl-Covered Chain-Link
Vinyl coatings come in three varieties: powder coated, extruded and bonded, and extruded. The gauge of the wire is sometimes calculated on the underlying wire size and sometimes with the thickness of the coating included.
Class 1 extruded: The cheapest product with the PVC coating simply pulled over the wire much like you pull a glove onto your hand.
Class 2A extruded and bonded: Midgrade quality used extensively in home and commercial applications. It's the same as the above extruded method but also glued to the internal wire with a strong adhesive.
Class 2B thermally bonded: The superior product with the thinnest, hardest and most durable coating. It uses vat-dipped powder coating methods to chemically bond the PVC to the wire.
Brown, White and Green Chain-Link Fence Prices
The only difference between black and brown, green and white is the color of PVC used. There are no other differences in price or use. Choose the color that best fits your home. You can find other colors like redwood, gray and beige, though they are not commonly stocked at suppliers or home improvement stores.
Compare Quotes From Chain-Link Fence Pros
Pros & Cons of Vinyl Chain-Link Fences
Trying to decide between the cheaper galvanized and the higher-priced vinyl? They both have roughly the same life span of 15-20 years and require almost no maintenance. The main issues are cost and design.
PVC-Coated Chain-Link vs. Galvanized vs. Wood Framed

| Type | Pros | Cons |
| --- | --- | --- |
| Vinyl-coated | Looks better longer, many colors, easy to install | 25% - 50% more expensive |
| Galvanized | Cheapest, easy to install | Industrial look stands out |
| Wood framed vinyl | Best looking, wide design applications | Harder to install, needs more maintenance |
DIY vs. Hiring a Fencing Contractor
Chain-link fences can be great DIY projects for the handy homeowner. Doing it yourself saves you half of the project costs or about $8 to $20 per linear foot. However, it will take an experienced DIYer at least 20 hours, almost three full work days, to install 150 feet. Plus, it can end up costing you more than a simple install if a professional needs to fix any mistakes.
FAQs
How long does it take to install a chain fence?
The first 150 feet takes about 20 hours for the DIYer, or a single day for a professional installation crew. Add a day for each additional 100 feet.
How can I get a cheap black chain-link fence?
The easiest way to get cheap, black chain-link fencing is to search multiple suppliers and get quotes. Get an extruded variety with a thinner gauge wire but be aware it won't have the same durability as a more expensive product.
Is black chain fencing galvanized?
The interior wire of black chain fencing is galvanized and covered with a vinyl coating.
What is black cyclone fencing?
Black cyclone or hurricane fencing is another name for a black, vinyl coated chain-link fence.
How does vinyl coated chain-link fences compare to other vinyl fences?
Both vinyl and vinyl-coated chain link are almost maintenance free. However, chain-link varieties don't block the view or the breeze and will last five to 10 years longer for a fraction of the price of wood or vinyl fencing
Have More Questions About Your Chain-Link Fence?
Thank you for submitting your feedback.