Wheelchair Ramp Cost
A professionally-built wheelchair ramp will cost between $988 and $3,122, with an average of $2,053. Depending on the materials chosen for the structure and the price of labor, expect to pay between $100 and $250 per linear foot. A standard unit is 30 feet long, 30 inches wide, and 30 inches high.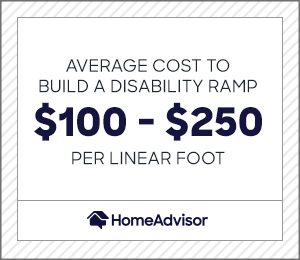 Wheelchair ramps offer wheelchair users freedom, but only if constructed properly. Some are difficult to use or even dangerous, so it's important to hire a professional who is experienced and familiar with the Americans with Disabilities Act (ADA) guidelines. Here are some factors which will affect the construction cost for your structure that need to be taken into consideration.
Thank you for submitting your feedback.