Baseboard Heater Repair Costs
The average cost to repair your baseboard and wall heater is between $144 and $435, with most homeowners spending $285.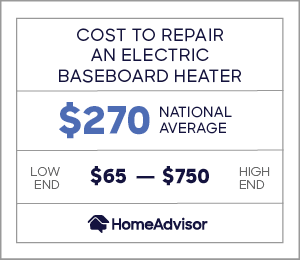 It is always an uncomfortable feeling when your heater isn't working correctly. In the dead of winter, you'll want it functioning properly. Repairing electric baseboard heaters is simple and usually not expensive. But there are several parts of the baseboard that can fail and affect your repair costs. This look at baseboard and wall heater repairs will help you identify faulty parts and make the necessary repairs.
Most repairs should only take a matter of hours. You can expect your pro to charge around $65 and $85 per hour.
Baseboard heaters are simple systems. This can make replacing the entire unit easier than repairing broken components. The installation of a new heater can cost between $350 and $1,100. Your HVAC contractor will be able to help you choose the best solution for your home and budget.
Most homeowners pay between $130 and $450 to hire a furnace pro. Your costs will vary based on the size of the unit and the nature of the problem.
The root of your heater's malfunction can vary. A lack of heat is the most common sign of a faulty unit. Inconsistent temperatures can also signal a problem. Not all issues affect your heater's air temperature. Burning smells and smoke are also cause for concern.
Hire a Pro to Diagnose Your Heater Problem
To understand which part of your heating isn't working, it's important to know a little more about how the unit works. Here's a breakdown of your heater's anatomy and functionality.
Snap-In Brackets. These are supports designed to hold the front panel and the heating element in some designs.
Front Panel. This protective panel snaps onto brackets and provides access to the unit's interior for cleaning and repairs.
Air Intake. These vents provide circulation into the unit and help with cleaning.
Pivot-Mounted Damper. Dampers allow you to control the flow of heated air.
Heating Element. This is a piece of metal that uses electricity or liquid to create heat. Most elements are made from copper.
Thermostat. Your thermostat allows you to raise and lower the temperature. This is usually located on the outside of the unit.
Thermal Limit Switch. The thermal switch helps prevent overheating. If your unit exceeds safe temperatures, your switch will cut power.
Cleaning the vents and openings of your heater will ensure its long-lasting health. Keeping furniture and other air-blocking items away from its intake will improve its efficiency and keep it in great shape for years to come. Bigger issues like heat element failure will require the help of a pro.
Hire a HVAC Pro to Clean & Maintain Your Heater
It used to be that electric was the most expensive way to heat your home. This is no longer the case. It never hurts to reassess your home's heating costs - especially if you have a broken heater. Use this comparison of gas and electric heat to determine which is right for your home.
Utility Prices:
Gas: $14 per million BTUs of heat.
Electric: $34 per million BTUs of heat.
Installation:
Gas: Installing gas lines will cost $260 - $760.
Electric: Electrical installations are simple and DIY-able. If you have to install wiring, expect to pay $160 - $500.
Lifespan:
Gas: 15 - 20 years.
Electric: 15 - 20 years.
Safety:
Gas can cause carbon monoxide (CO) poisoning and gas leaks. Keep a CO detector near your heater and have a pro perform regular maintenance to avoid both problems.
Electric can start fires. Proper use and regular maintenance will prevent problems.
Maintenance:
Gas: It's best to hire a pro once a year to inspect your unit to ensure it's in good shape.
Electric: You can DIY most upkeep (cleaning vents, blown fuse). You'll only need to hire a technician in the event of a major problem.
Simple repairs like cleaning out vents are DIY-able. If you notice major malfunctions like heat element failure, it's best to hire a pro. Mistakes with DIY repairs can result in fires, shock, and CO leaks.
Get a quote from a local heater repair pro
Thank you for submitting your feedback.