Bed Bug Extermination Costs
Homeowners spend an average of $1,000 to $2,500 to exterminate bed bugs. The level of infestation, the size of the space and the type of treatment will affect your price. You could pay as little as $300 for a small problem and as much as $5,000 to clear a large house.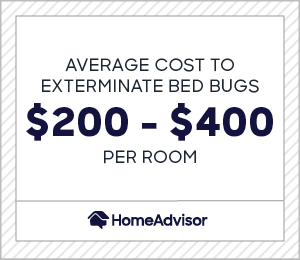 These are some of the most difficult pests to get rid of. They can survive for long periods of time without food - which, for them, is blood. They can also hide in small cracks and crevices to dodge chemicals and sprays. To truly get rid of them, the best route is to hire a professional exterminator. When you hire a trained pro, they will handle the service appropriately and effectively. Plus, you won't risk harm to yourself or your property.
Thank you for submitting your feedback.