Cost to Build a Brick or Stone Wall
Building a brick or stone wall costs $4,880 on average with a typical range between $2,137 and $7,628. Brick walls cost $10 to $45 per square foot depending on thickness and type. Stone walls run $25 to $80 per square foot depending on thickness and style. Cinder block walls cost $5 to $12 per square foot with veneers adding $5 to $12 per square foot.
These walls have several uses outside the home. These walls can add a decorative touch to a lawn or garden and increase the functionality of the space. Before choosing which materials you'd like, look at the costs and factors outlined in this guide.
| Material | Per Square Foot | Per Square Meter |
| --- | --- | --- |
| Brick | $27 - $45 | $290 - $485 |
| Brick Veneer (one 4" Wythe) | $10 - $30 | $108 - $325 |
| Mini (thin) Brick Veneer Strips | $5 - $15 | $55 - $160 |
| Hollow Brick | $25 - $45 | $270 - $485 |
Cost of Brick Wall Per Square Foot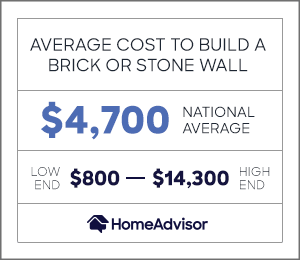 Brick wall square foot costs range from $5 to $45 depending on the type you choose. Your choices include:
Brick: $27-$45 per square foot. Traditional brick walls cost around $35 per square foot. However, you will also need to calculate in a variety of additional materials, such as mortar and concrete for the base trench of the wall.
Veneer: $10-$30 square foot. This one brick width thick (4 inches) wall acts as a veneer against a steel or wood frame. Also known as a "Wythe".
Thin Brick Veneer: $5-$15 per square foot. Brick walls are often an affordable option when going with veneer. These are about one inch thick and get stuck to a wall using thinset or another similar cementing process. They add far less overall weight to the wall than a Wythe.
Hollow: $20-$30 per square foot. It features a unique design with a durable shell and a hollow space in the center of each one.
Labor Cost to Build a Brick Wall
A mason charges $70 to $110 per hour for labor when building a solid wall. For thin veneer or a single wythe over concrete or wood, the labor runs $25 to $40 per hour for general contractors or carpenters. When doing a wall on a home, it's a specialized process that often gets done incorrectly. Always hire a mason when in doubt.
Interior Brick Wall Cost
Interior brick wall installation costs $5 to $15 per square foot, because you'll almost never use real brick, but instead a thin veneer. Mini brick weighs a third or less what a full 4" veneer would. The thin nature of the clay means your current foundation and load bearing walls can handle the minor added weight. For the weight of real brick, you'd need to first reinforce your home.
Brick Garden Wall Cost
Garden brick walls cost $25 to $35 per square foot for real clay or as little as half that for concrete block covered in veneer. Since they're smaller, they tend to cost less, but you can always choose high end materials with decorative finishes to increase the price. The price of a raised garden bed, for instance, tends to range between $400 and $600 depending on the size of the garden and the intended height.
Brick Fence Cost
A brick fence costs between $15 and $40 per square foot. You could even pay more. Brick fences, unlike other types, require a footing to carry the weight. Find a local mason for the best price since variables include:
Design: Solid brick, partial or combined with wood or wrought iron?
Height: 4, 6, 8 or 10 feet high?
Total length: More fence equals higher price. You may get a discount per square foot with extremely large projects.
Frost depth in your area: Local codes require different depths in different areas.
Location: Don't expect a fence in New York City to price out the same as one in Milwaukee.
Brick Columns Cost
Ornamental brick columns cost $500 to $2,000 each. Short columns with little features fall on the short end of that range. Tall columns with features such as electricity, a gate or other upgraded options fall on the high end.
Structural columns run $2,000 to $7,000 or more each. These support a structure meaning they have a larger footing which requires more excavation. They also use a higher PSI concrete filled with rebar.
Compare Costs For Your Brick Wall or Structure
| Material | Per Square Foot | Per Square Meter |
| --- | --- | --- |
| Natural Stone | $25 - $80 | $270 - $860 |
| Stone Veneer | $10 - $25 | $270 - $485 |
Rock Wall Cost Per Square Foot
When installing a rock wall, stone workers typically charge between $20 and $30 per square foot. The reason for this relatively high price is the extensive labor and tools required to build one.
Natural Stone Tiles: $25-$50+ per square foot.
Stone Veneer: $10-$25 per square foot.
Labor Cost to Build a Stone Wall
Masons charge anywhere from $70 to $110 per hour for labor. Carpenters and other general contractors or less experienced masons might charge $30 to $50 per hour. Hourly rates also vary from place to place. Depending on materials, about 60% to 80% of stone wall costs come from labor, especially if you source stones locally.
Natural Stone: $15-$30+ per square foot in labor.
Stone Veneer: $10-$15 per square foot in labor.
Fieldstone Fence or Dry Stack Stone Wall Cost
Besides stone prices, labor costs to install a dry stack stone wall properly range from $40 to $80+ per hour. As its name suggests, a dry stack wall includes consists of stones stacked on top of each other without mortar or any other binding agent. For decorative purposes, it can become a centerpiece of your property.
Stone Accent Wall Cost
A stone accent wall costs $4,000 to $8,000 to install in your home. You'll make one of these accent walls from stone veneer and not usually thick stone, unless your homes structure can support the weight. Veneers weigh little so you can install them without any home modifications. Putting in real stone, like around a fireplace, may require improving the load capacity of your walls and possibly pouring new footings.
Compare Estimates From Local Brick and Stone Masons
Block Walls
Cinder block walls cost $9 to $12 per square foot. Sometimes, you pay $6 to $8 per linear foot for a plain block wall. Once in, you can use any type of finish including:
Retaining Wall
Retaining walls cost $3,200 to $8,700. When professionally installed, these hold your landscaping intact and allow level ground where none existed before. They're also used for drainage issues and to create water features.
Masonry Wall Cost Factors
Building permit prices run $100-$500. Always check with your local code enforcement office.
Drainage solutions cost $2,000-$5,800. Almost all brick and stone walls need drainage, either natural or installed.
Land surveyor fees run $350-$700. A wall located on your property line needs to be exact to avoid any legal or neighborly trouble.
Footing and foundation costs vary. It all depends on the size of the wall and what it weighs. You may need to hire an engineer. Structural engineer's rates average $500.
Difficult terrain. The more uneven the terrain, the more expensive it will be to build a functional wall. Difficult terrain increases the time it takes to install so affects labor costs.
DIY Brick & Stone Wall Construction vs. Hire a Pro
Leave bricklaying to the pros. Improper installation leads to removal and replacement. You'll almost never find a quick fix for a DIY mistake. Unless you're installing the most basic of structures, like a short column or raised garden bed (and don't mind taking it apart and doing it again if you make a mistake), let a mason build your wall.
FAQs
How much do 1,000 bricks cost?
Bricks cost $350 to $850 for 1,000 common clay. Some concrete blocks cost $2,000 or more per thousand.
How much does it cost to brick a house?
Bricking a house costs $15 per square foot on average.
Where can you use a brick or stone wall?
Brick or stone walls make excellent architectural and landscaping features in a variety of places, including:
Yard Fencing
Accent Wall
Garden beds
Gate posts
Outdoor kitchens
Pool fencing
Driveway lining
Hire a Brick or Stone Masonry Wall Builder Near You
Thank you for submitting your feedback.