Shiplap Costs
Shiplap wood prices range between $2.50 and $7.00 per square foot for real boards. On average, shiplap interior installation costs $1,000, with most homeowners spending between $500 and $1,500 for one room. Installing exterior shiplap costs $4,000, with most homeowners spending between $2,800 and $7,500. The main factors included in the cost are the type of wood, the size of the home, and contractors in your area.
Shiplap is a durable form of siding that can be used to create a resilient yet appealing look. Sometimes it is made from old wood, but you can also use fresh materials. It's made by rabbeting (cutting connectable grooves in) boards to overlap edges and create a solid joint. Because of its durability, it is a popular choice for homeowners in all sorts of climates.
Inexperienced homeowners should consider hiring a professional instead of DIY-ing this task. The qualified pro will help reduce the risk of material damage caused by using the wrong underlayment and more.
Shiplap Board Prices Per Square Foot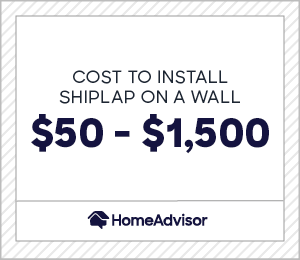 The price of shiplap boards averages between $2.50 and $7 per square foot. The cost is based on the quality and type of wood, and your geographical region. Locally sourced wood is the cheaper option. For example, if you live in Michigan where pine trees are common, then you may be able to purchase pine at a cheaper price than another alternative.
Lower quality wood is also less expensive based on how many knots are in the boards, whether it's made of hardwood or softwood, and whether the wood has been reconstituted from pulp.
Shiplap Siding Costs For a 1,000 Square Foot Home

| Type | Per Square Foot | for Entire Exterior |
| --- | --- | --- |
| Hardwood | $2.50 - $3.50 | $2,500 - $3,500 |
| Cedar | $2.50 - $7.00 | $2,500 - $7,000 |
| Pine | $2.75 - $3.75 | $2,500 - $4,000 |
Hardwood Shiplap
Hardwood is the most common type of shiplap used and can be placed on a home's interior or exterior. Hardwood has a sizable price rain, and it is an easily accessed building material for interested homeowners. The main difference between it and other wood types is that the term "hardwood" refers to wood taken from broad-leafed trees and can include boards from many different types of tree rather than one. People can expect to pay anywhere from $0.80 to $4.00 per square foot based on the manufacturer and hardwood type.
Cedar
Cedar is one of the most common shiplap materials. Average cedar boards are between $2.50 and $5.00 per square foot. High quality cedar is more expensive and ranges between $4.00 and $7.00. The average home is between 1,500 and 3,000 square foot, and the exterior walls are between 500 and 1,500 square foot.
Pine
People can purchase medium or average-quality pine for $2.50 to $4.00 per square foot. On average, it's sold in 100 square foot bundles for $275 to $375 each. Pine has been one of the standard materials for home siding for decades and remains a popular choice for homeowners because of its appearance.
Wall Installation Costs
Interior shiplap walls tend to be less expensive than exterior siding. Materials can be anywhere between $2.00 and $7.00 per square foot for each board, and you need to factor in the overall size of the room you want to redesign.
The total cost for a DIY interior installation can range from $500 to $1,500. If you do not have the construction experience, knowledge, and tools required for a DIY installation, it's highly recommended that you call a professional contractor. They often supply their own materials and can offer discounted supplies based on the size of the project. The total cost for a single interior room of 200 square foot would be $500 to $1,400 for a DIY installation. Having a professional install interior shiplap for a 200 square foot room would be between $1,000 and $1,700.
Additional Material Prices
You also need to pay for the installation materials like underlayment, nails, spackle, primer, wood filler, and finish. The average prices for these items vary greatly according to the store you buy them from as well as how much material you need. Some pros will supply their own materials, so you should talk to your contractor to determine whether the price of materials is included in their estimate for you.
Below are some average estimates based on the installation of shiplap in a 12x14 ft. room with roughly 168 square feet of interior walls.
Underlayment ($75 - $90) is a wooden material typically laid under vinyl flooring or other projects like new walls. To redesign a 168 square foot room, you can expect to spend $75-$90 for the underlayment and any associated materials required for its installation to go underneath the shiplap as an extra layer of protection.
Nails ($2 - $6) are cheap and can be sized to fit the dimensions of your project material. Two 5lb. boxes of nails or one 10lb. should be enough for the project and cost $2-$6 depending on the quality and brand you choose.
Spackle ($10 - $20) is a putty that you apply to walls, wood, and sheetrock to cover up holes and cracks. The typical amount you would need would be one or two 8 oz. buckets. The buckets would be $10-$20 depending on which brand you purchase.
Primer ($100 - $125) is what you use to smooth your walls before applying the wood. One gallon usually costs $25, and this type of project could require up to 4 or 5, meaning you could spend $100-$125 for an even surface.
Wood Filler ($15 - $20) is a substance that you apply to wood to eliminate or cover imperfections. It's also called wood putty and is often made from paste and wood shavings. You would use this to create a smooth surface and spend between $15 and $20 for materials.
Finish ($22 - $26) for a this kind of wall is optional but could help you achieve the coloring you want on your interior. Most finishes for a shiplap room of 168 square feet cost $22-$26.
Get Help From a Pro for Your Shiplap Wall Installation
Cost to Install Shiplap Siding
Exterior siding shares some of the necessary materials for interior installation but comes with larger costs. Shiplap materials can cost from $900 to $2,600, while professional labor would add an extra $3,000 to $5,000, totaling about $2,800 to $7,500 for a 2,700 square foot home. The labor and materials are also for a 2,700 square foot home with 1,000 square feet of exterior wall space. You need to figure out the square footage of your home's exterior walls and subtract the size of your windows and doors to determine how much siding you need. The average home is about 2,700 square feet, which can mean you need to plan enough materials for at least 1,000 square feet of exterior walls.
Most of the materials you need are:
Finish and Roofing Nails
Exterior Stain
Exterior Caulk
There are several benefits to hiring a professional for this project. Experienced workers can identify damage to the plywood and figure out the best installation method to sustain the walls. They can also size and cut the wood correctly and know what the finished product should look like. They supply their own equipment, like table saws, in case homeowners do not possess the required tools to complete the project.
DIY Siding Installation
DIY shiplap installation begins when you rip off old siding and cladding on your home. You also need to remove the original moisture barrier and replace any damaged plywood and installation underneath. You then apply a new moisture barrier and then begin to install your planks. At the end, you need to caulk, seal, and stain your new siding.
Price of Cladding
Cladding can be anywhere from $2 to $5 per square foot, but is not always needed. Cladding is a material placed over the shiplap to prevent damage from water, wind, and other natural elements. Some versions need it because the wood is vulnerable to the weather and harsh factors of the outdoors. A trained professional can help you determine whether or not cladding would work for your siding installation. If you would like the additional protection, then cladding is an affordable option for most homeowners.
Hire a Wall Installation Contractor
Shiplap vs. Drywall & Sheetrock for Interior Walls
The chart below demonstrates the projected price of each installation, and there is information about each material's pros and cons. You should choose one that will suit your needs and style, as well as one that fits your budget. All of the price estimates are based on an average room size of 200 square feet. Drywall and sheetrock installations vary in price based on the material used and the size of the project.
The Cost of Interior Wall Installation for a 200 Square Foot Room

| Material | Estimate |
| --- | --- |
| Shiplap | $1,000 - $1,900 |
| Drywall | $1,000 - $1,200 |
| Sheetrock | $700 - $1,200 |
Shiplap, drywall, and sheetrock are all materials which can be installed on walls to create a finish. Sheetrock is actually a branded version of drywall sold by the U.S. Gypsum Company and is the most common variant on the market.
Drywall and sheetrock are usually installed in the place of plaster. People who choose this option can install walls that look brand new and have a rectangular, uniform feel. Shiplap lends a more creative appearance to a room and is less uniform because people can see the knots and textures. People who want to paint a room might also enjoy drywall and sheetrock, while shiplap needs to be stained and will retain its wooden appearance.
In terms of durability, this wood siding is much harder to damage than drywall, which is part of why it is more expensive. It takes a lot of force to dent it, and scratches are almost invisible. Wood siding can additionally be whitewashed easily and adds an extra aesthetic appeal for homeowners.
It's also much more resistant to moisture and the elements, while drywall and sheetrock are known to absorb moisture and become easily damaged. However, drywall and sheetrock are usually less expensive. Consider whether you prefer to save money during the initial installation or spend a little more and avoid future maintenance expenses.
Advantages and Disadvantages of Shiplap Siding
Pros
Cons

Resistant to the elements
Durable against everyday wear
Pleasing to the eye
Easy to install

More expensive than sheetrock and drywall for internal walls
Hard to repair when damaged
Shiplap vs. Tongue and Groove
Shiplap bears some similarities to the popular tongue and groove siding; however, it uses rabbeted edges to connect the boards together. Tongue and groove connects planks by cutting each edge to interlock with another. Tongue and groove is better at keeping out the elements, but the alternative is cheaper and easier to install. Tongue and groove tends to be between $2.00 and $3.50 per square foot.
Shiplap vs. Clapboard
Clapboard siding uses thin, overlapping planks. Many older homes have clapboard. The main differences between the two are that clapboard is cheaper and creates a more textured surface. Most clapboard costs between $1.90 and $3.00 per square foot. However, the two are equally capable of protecting your home from harsh winds and precipitation.
DIY or Hire a Pro?
When it comes to the installation of any wooden siding, homeowners should consider hiring a professional. Shiplap needs to be aligned properly to protect a home, which means the installer needs to measure and cut the boards carefully, even when bought from the store. The same goes for interior wall installation. Especially when adding to a load-bearing wall, professional installation is recommended for the safety of your home and family.
A professional can also check the underlying home foundation and insulation and prevent damaging it through careful work and expertise. Shiplap can add character to any home interior or exterior. If you're interested, remember to choose a product that suits your needs and will brighten your home.
Hire a Pro For Your Wall Project
Thank you for submitting your feedback.