Septic Tank Installation Cost
Septic tanks cost between $3,123 and $9,644, or $6,319 on average. A typical 1,000-gallon tank, great for a 3-bedroom home, can range from $2,100 to $5,000, including the price of the tank itself, between $600 and $1,000. Compare quotes from septic tank services near you for the best price.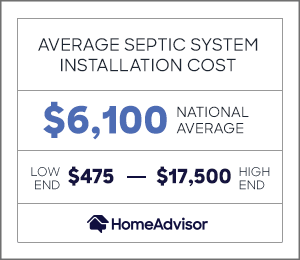 If your home is not attached to a municipal sewer plant, then you likely have a septic system to handle your home's wastewater collection, treatment and disposal. This type of system requires an underground septic tank to hold the wastewater and a soil absorption system to disperse the clean wastewater back into the land. Many homeowners find predicting the final cost of a septic tank installation to be difficult, and for good reason. Many factors, including tank size, tank material, soil makeup, permitting requirements and installation charges, can affect the cost of a septic system.
Thank you for submitting your feedback.