Stamped concrete serves as a low-cost alternative to other materials for paving and decorating. It is poured and stamped with a pattern to resemble brick, flagstone or wood. While stamped concrete costs more than a concrete slab or asphalt, it is attractive and less expensive than stones or pavers.
On This Page:
Stamped Concrete Patio Price Ranges
The cost of a stamped concrete patio depends on materials and labor, but it will usually cost between $8 and $20 per square foot to install. The complexity of the design can also affect the price:
Basic – A basic stamped concrete patio has one pattern and single color. If you have a large area to pave, this is an easy way to keep costs down. Choosing the right color can complement your house and yard. It can also help reflect heat to keep your patio a bit cooler. For a basic patio you can expect to pay $8-$12 per square foot.
Intermediate – A mid-range stamped concrete patio usually has two or three colors with a contrasting border. One of the common places you'll see these is around pools and spas or walkways. They can be very attractive without breaking the bank, and cost $12-$18 per square foot.
High End – If you want that natural look complete with hand-stained variations in the "stone", the high-end stamped concrete patio has a lot to offer. Elaborate designs such as borders, compasses and other saw-cut designs can add a very elegant, customized look to your patio. The sky's the limit for creativity. Depending on the size of the area and the complexity of the design, you can pay $18 and up per square foot.
Basic Designs ($8-$12 per square foot)
Basic designs for a stamped concrete patio often use a simple, easily repeatable pattern, such as brick or squared flagstone. Some basic designs used for large areas can show themselves in identifiable repetitions, but sometimes this is the desired aesthetic. In other designs, it is hard to spot the pattern unless you're specifically looking for it. They use a single color that provides a clean, uniform look to the patio as a whole. Home improvement stores sell simple patterns for the DIYer at around $15 each, but selection is often very limited. A common look for a basic pattern is single-colored cobblestone or flagstone. What makes it "basic" is that the mold is just picked up and moved from section to section.
Intermediate Designs ($12-$18 per square foot)
Intermediate, or mid-range, designs employ two or three colors for the field, and a patterned, contrasting color for the borders. Patterns for a repeated design are often harder to spot as two stamps of the same design could have different colored "stones," and they often interlock in multiple ways. Flagstone is a popular mid-range choice for stamping for a natural look without a maximum cost. Many people find the colors and patterns very pleasing. The addition of a border also helps define an area.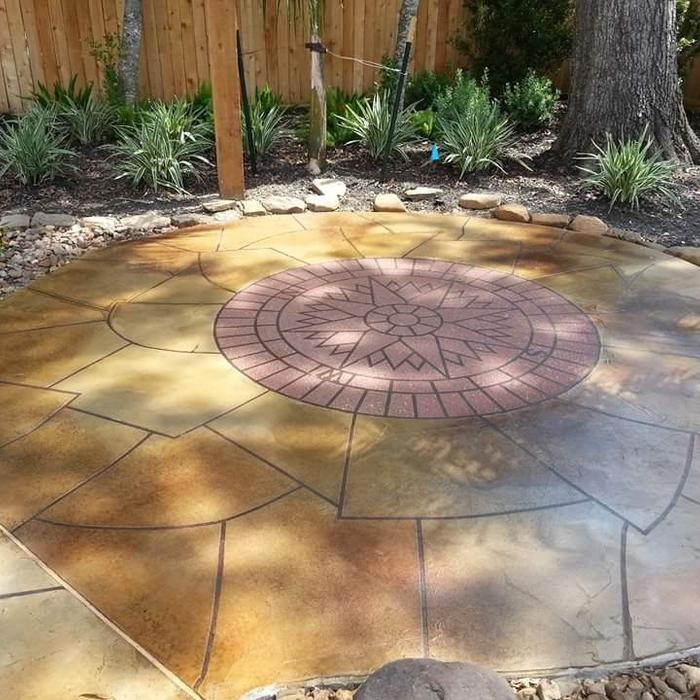 High-End Designs ($18 and up per square foot)
High-end designs are where things get fancy and pricey. Saw-cut designs and hand-colored concrete with hand-tooled edges are found at this price range.
Saw-cutting is a method of scoring the concrete to put a custom design in it. These can be anything from geometric patterns to logos and images. It takes a skilled hand, a dedication to excellence, and knowledge of what kind of tools to use. Some saws make nice, square edges while others produce a beveled cut. Some designs can use a walk-behind saw while others call for a small, hand-held saw to get the right cut. It takes a true craftsman to know what kind of saw or blade to use where to get you the look you want.
Hand coloring is the art of applying the right concrete stain to get that totally natural look. Some of the best examples of hand-coloring are wood-stamping that looks almost indistinguishable from a natural wood floor, replicating natural tone changes in stone coloration, and for the playful, fossils, dinosaur tracks, or stamped leaf patterns!
Hand-tooling puts a rough, hand-carved look to the edges of the "stone". This gives any exposed edges a natural appearance and can be made to imitate freshly cut stone or stone that has been weathered with age. This look is very popular with older homes to make the new concrete look like it has been there as long as the house. It takes a skilled craftsman to get the look just right.
What Is Stamped Concrete?
Stamped concrete refers to the process of decorating concrete once it has been laid by an installer. Professional landscaping and patio companies use the same type of concrete used in driveways and other projects, and the material consists of a sandy substance that the installer mixes with water. The installer will need to create a mold that holds the concrete in place until it dries. Without the mold, the concrete could move and slide into other areas of the lawn.
The installer will mix the concrete and water and pour it directly into the mold. Some installers let a small layer of concrete cure overnight before adding a second layer while others will use a thicker layer of concrete and let the patio cure for several days. While the surface of the concrete is still wet, the installer will stamp the surface with a design of the homeowner's choosing. Depending on the chosen design, the installer might need to stamp the concrete multiple times. After the concrete sets, the finished design will appear on the top.
Stamped Patio Benefits
A stamped concrete patio has several benefits over both a plain, concrete slab patio and normal stonework.
Cost Comparison – A stamped concrete patio can give you the look and texture of inlaid stone or brick for about half the cost of the actual stone work, even when looking at the higher end of the scale. Here's where stamped concrete falls in the price ranges of various options:

Poured concrete: $6-$12 per square foot
Stamped concrete: $10-$15 per square foot on average
Concrete pavers: $13-$20 per square foot
Brick: $14-$20 per square foot
Stone, slate, marble: $17-$28 per square foot

Appearance – Stamped concrete can be designed to mimic other materials. It sometimes takes close inspection to tell that it's concrete and not slate, granite, brick, cracked earth or even wood. Depending on the quality level of the job you request, a transition from a natural hardwood floor to a wood-stamped concrete patio can be barely noticeable, and some have even used stamped concrete to mimic wood flooring for interiors as well! With appropriate texture and hand-coloring, concrete can provide all the warmth and appearance of any surface.
Maintenance – Pavers, brick, and stone can settle, creating uneven surfaces that can be hazardous to walk on. The joints and grout between them can crack and allow weeds to grow, or else let water into your substrate and cause them to rise. Stamped concrete doesn't suffer from any of these conditions. It's as solid as a plain, concrete slab while being as attractive as expensive inlaid stone.
Installation – A stamped concrete patio can be installed over an existing slab patio. It will raise the elevation about an inch or so, but it can dramatically improve the appearance of your yard without having to rip anything out or dig anything up.
Curb Appeal – There's no doubt that a decorative patio, walkway, or driveway will attract people far more than a plain, grey slab will. If you're thinking of putting your house on the market, most outdoor improvements recoup about 50%. Depending on where you live, an attractive patio can give you a higher return, especially in temperate regions. The more likely people are to spend time outside on the patio, the higher a return you'll get.
Disadvantages of Stamped Concrete
While stamped concrete does have some great benefits, it also suffers from a few problems. One of the biggest drawbacks is that the concrete can develop ridges when improperly stamped. This often occurs when the installer needs to use two stamps or needs to move the stamp to design a larger patio. The ridges will appear in between the stamped areas and detract from the overall design.
Efflorescence is another problem that can occur on a stamped concrete patio. This occurs when the concrete comes into contact with water, and it leaves behind crystallized deposits on the surface of the patio. This often happens when water reaches the concrete before it finishes curing or drying. The effects can take several weeks or months to appear, but some homeowners will notice that the crystals appear within a few days after installation. Efflorescence can also occur when the sealant on the surface of the concrete wears off. Water from rain, snow or ice can settle into the concrete and leave behind those crystals. Homeowners need to ensure that they seal the concrete properly to prevent this problem from occurring.
Other Considerations
Before pouring a patio, whether stamped or not, there are three things you should think about.
How will the patio be used? – While many people are fine with a concrete rectangle right off the house, consider adding curves for a softer look. You can also use the shape of the patio to mark areas, such as a standard rectangular patio with a small section jutting off for where the grill will be, or a rounded area for a fire-pit with seating. Areas for plants and other landscaping make your patio look attractive without being cluttered. If you want your patio to truly be a retreat, consider pouring it away from the house if you have the room.
Slopes and drainage – If your patio is going to be up against your house, you'll want to incorporate drainage. This is usually done by integrating a slope into the design. If this is going to put the lowest end of your patio below your yard level, you'll need to have some drainage there as well. If using a manufactured drainage system, the drain must be installed before the pouring begins to avoid a lot of digging up and re-pouring. The cost for this can vary widely depending on whether you have a simple round drain near the middle of your patio or a series of grates around the border. Also affecting the price is the length and style of the drain pipes. A complete drainage system costs between $200 and $600.
Placing control joints – Concrete expands and contracts with the environment. Control joints help facilitate this without cracking. Skilled contractors know where these joints should be placed (inside corners are the most common places for cracking). If you're planning a custom design, work with the contractor to incorporate these joints into your design for a clean, undetectable look.
Sealing – You should seal your patio to protect the concrete from the elements and to keep any stains from fading. Concrete that has been stained during the mixing process is most durable, but surface stains may fade more quickly under UV assault. A painted patio will flake even faster. Some sealants are slip-resistant, improving personal safety. Concrete sealers cost about $20 per gallon and can provide a glossy "wet look," a stained look, or a natural look. Sealers can cover about 300 square feet per gallon. Waterproofing can be added on top of that for about $30 per gallon. A gallon of waterproofing can cover up to 125 square feet.
Tips and Techniques
Stamped concrete is faster than laying in pavers, bricks, or stone, but that doesn't mean it's easy. It still requires some know-how, otherwise everybody in the world would have spectacular patios. Here are some pointers for your patio:
Subgrade – Your patio must have proper support and drainage underneath it. The soil beneath your patio is going to move around. The patio is rigid and won't move around. A properly prepared subgrade acts as a kind of cushion between the planet and your patio. Concrete has a lot of compression strength, which means it can support a lot of weight. What it lacks is tension strength; it will break before it bends. Some patios use rebar, which has a lot of tension strength, to help support itself. (To give you an idea of how much weight a patio needs to support even before you add furniture, grills, accessories, and guests, a single cubic foot of concrete weighs about 145 pounds.)
Anticipated load – If part of your project includes a section that will hold a heavy load, such as a car or an RV, be sure you have reinforcement that can support the weight. Rebar mesh frames are indispensible when it comes to supporting vehicle weights and resisting cracking.
Incorporate joints – As we said before, joints are pre-cut spots that help the concrete expand and contract without cracking. They must be at least a quarter of the way down the depth of the slab. Sidewalks, long driveways, and concrete floors have joints cut into them for this purpose, and some exterior concrete designs use the joints to help water run off the surface. A stamped concrete patio can incorporate these joints into the design so that they remain fully functional but are invisible. They look like part of the pattern. Talk to your contractor about working the joints into the design.
Use a dry shake color hardener – Dry shake color hardeners are applied to the surface of the concrete and provide a richer, more robust color than concrete that is colored during the mixing process. They're available in a wider array of colors than integral coloring and they give a boost to the strength and density of the surface of the concrete. They are very helpful in regions with intense freeze-thaw cycles.
Use the right mix – Your patio will be exposed to the elements, so you'll want a concrete mix that can withstand what nature gives, as well as dealing with the normal wear and tear of foot traffic. Watch the water-to-concrete ratio. Too much water makes for a thin mix that will crack and crumble quite easily. It becomes susceptible to water permeability. A professional will know how to get the mixture right, but if you are mathematically inclined, here's how to figure it out:

Divide the water in one cubic yard of the mix (weight in pounds) by the cement in the mix (also in pounds).
If the mix has the water listed in gallons instead of pounds, multiply the gallons by 8.33 to figure out the pounds.
The result in decimals is the water ratio. If a cubic yard of the mix has 200 pounds of water and 400 pounds of cement, the water ratio is .50, which is the highest ratio you want if the concrete will experience freezing and thawing in moist conditions.
Stamped Concrete Patio Maintenance Tips
Concrete is strong, but it's not entirely maintenance-free. To keep it looking its best and lasting a long time, you will need to do routine maintenance.
Sealers can help prevent stains, but you still should give it a sweep and wash to prevent dirt and grime build-up. Pressure washing is excellent for routine upkeep of exterior surfaces, but if this is impractical, scrubbing with a mild detergent should suffice. How long the sealer lasts is dependent on the conditions and wear and tear it is exposed to. It's one of those products where you get what you pay for, but even an average sealer should last two to three years under normal conditions.
Stubborn stains can take a bit more to clean, but they do happen and must be removed quickly. Fortunately, most degreasers work well removing oil and grease from concrete. One of the more common stains comes from a regular build-up of debris such as leaves or pine needles or rust from metal outdoor accessories. In this case, look for cleaners with oxalic acid.
Avoid de-icing salts. The salt itself is not the problem; it's the chemical reactions that go along with it when it gets wet. Salt reduces the freezing temperature of water. Applied to stamped concrete, the salt melts the water and turns into salt water which can now get into the concrete. As the sun comes out and more salt is applied, the whole freeze-thaw cycle is repeated over and over again in a very small amount of time. This stresses and weakens the sealer, causing it to fail. Your concrete is no longer protected. To fight against this, use a combination of sealers. A penetrating sealer will get into the pores of the concrete and protect it on the inside, while an acrylic sealer will form a protective layer on the outside. It may cost more at first, but you'll make it up in maintenance costs.
Stamped Concrete Patio Ideas and Designs
Designing a stamped concrete patio requires little more than your imagination. However, as custom designs get a bit expensive, many contractors have patterns on hand that you can choose from. Here are some of the more popular designs: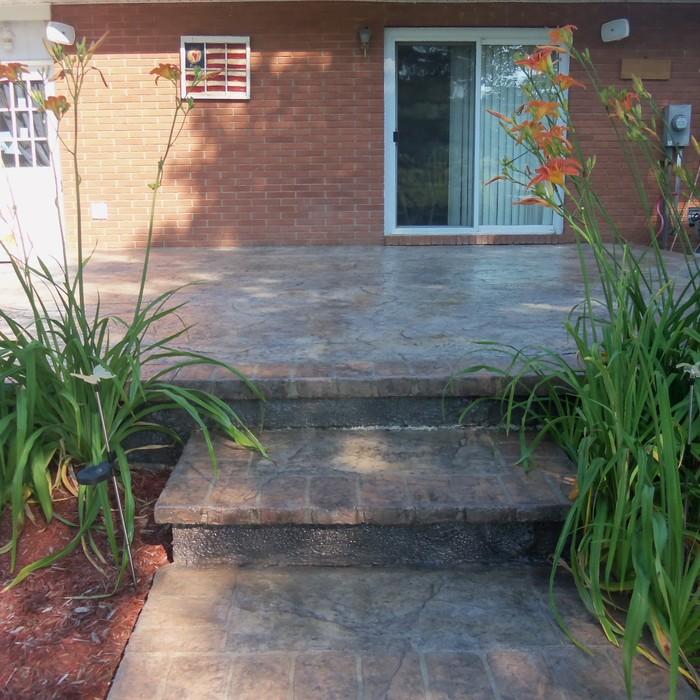 Cobblestone
This random interlocking pattern replicates cobblestones with rounded corners and irregular edges. The look is that of hand-cut cobblestones that have been there for decades.
Yorkstone
Yorkstone is another random interlocking pattern. The surface texture is that of fractured stone. It has a very natural look with rough corners and edges.
Fractured Slate
Another random interlocking pattern, the natural texture is complemented by straight edges and squared corners. It's a very clean look.
Fractured Earth
This is an embossing skin, a large stamp designed to cover a wider area which will later be scored. The look is of ancient, very compact ground with natural cracks and it lends itself to soft curves quite well.
Fractured Slate (Embossing Skin)
While the interlocking pattern for fractured slate offers a squared-off tile look, the embossing skin gives the appearance of a huge, single piece of slate. It can actually make a small area look bigger.
Riverstone
This embossing skin has a busy but pleasing look. It replicates the appearance of stone that has been smoothed by years of running water.
Ashler Stone
This is a random interlocking pattern with sharp edges and square corners. The surface texture is that of split stone. It has a nice hand-worked look.
Pine Interlocking Plank
These are made to look like pine boards that have been lightly sand-blasted. The higher priced staining is worth it for the look of natural wood with the durability of concrete. The edges are beveled like a natural plank of wood and the ends are saw-cut to complete the image. Some stamps even have "nails" in them!
Cobblestone Sorrento
This is similar to the random interlocking cobblestone, but the "stones" are of uniform size and are evenly spaced in a stair-step pattern. The corners are rounded and the edges are irregular to give a hand-cut look.
Natural Stone Rock Garden
This gives the appearance of inlaid garden stones of various shapes. The surface texture is smooth and flat and the edges are rounded and worn for a very warm look.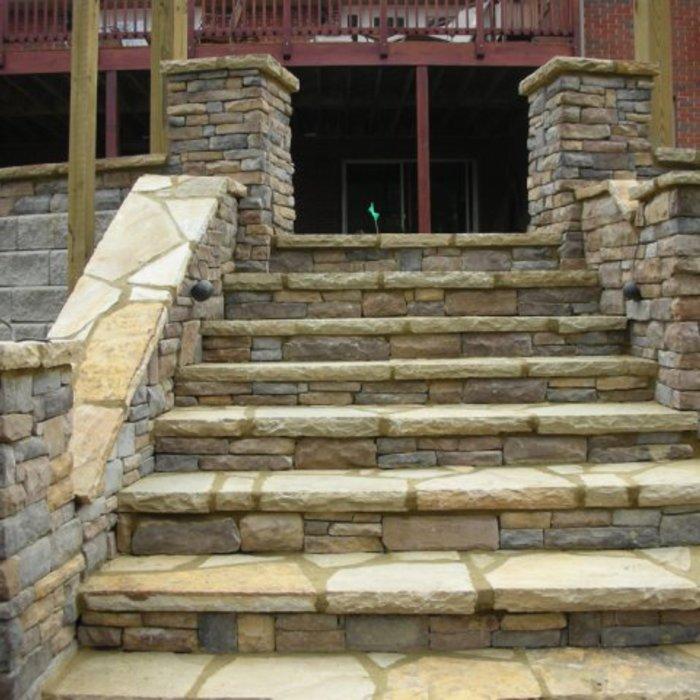 Sandstone
This is a random interlocking pattern that gives a natural, rough finish with rounded and worn edges. Similar to the Rock Garden pattern, the stones are larger.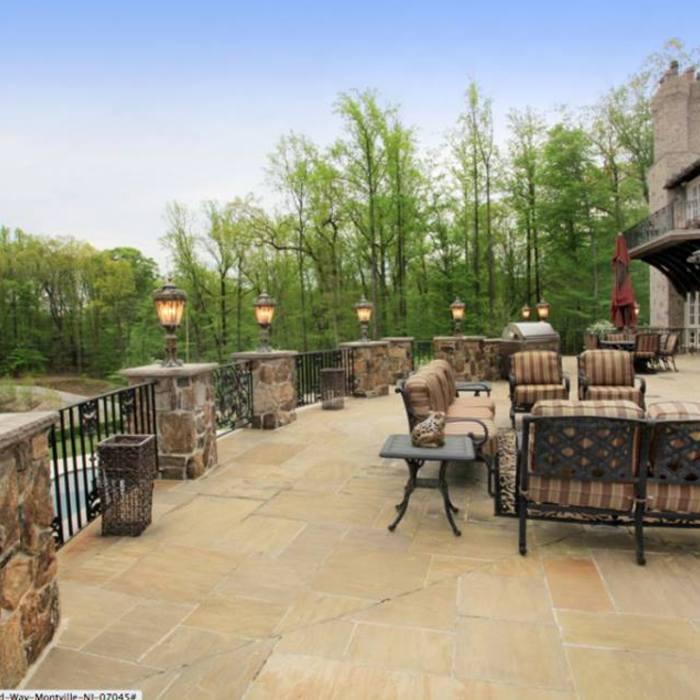 Limestone European Fan
A very noticeable pattern, the "stones" fan out in attractive sprays. Rounded corners and irregular edges give a hand-chiseled appearance.
Ideas for stamped concrete don't begin and end with shape and pattern style. Here are some ideas to make your stamped concrete really stand out:
Grout It Out
As long as your patio has adequate drainage, try putting in a little "faux grout" between the stones. This will impart a hand-laid look, especially if you go with a natural coloring to the stone.
Bring A Sloped Yard To Tiers
A yard with an exaggerated slope can benefit from a tiered patio. While this is an expensive project, it increases the amount of usable space in your yard. Tiers can also help separate areas by suggesting the existence of rooms on your patio.
Of Pergolas and Patios
Some yards are just featureless pieces of land. You could just plant some trees and hope they live, but a stamped patio with a pergola won't need trimming or watering, and won't attract squirrels, raccoons, or possums. It may attract your neighbors, though. Add some curves to it to create zones and maybe incorporate a stone fireplace and you can enjoy an attractive, and largely maintenance-free, yard!
Order A Border
A border can really make a patio pop. Borders with contrasting colors work very well with non-standard shapes and can accent features such as fire pits.
That's Entertainment!
Through the use of tiers and walkways, you can take advantage of uneven ground by creating "rooms," including an outdoor kitchen, a dining area, and conversation areas. Build up the borders and top them with pavers to create built-in seating. A little overhang on these provides an excellent place for lighting.
Working With the Land
If you already have existing landscaping, try to work your patio design around it, using the surface to direct attention to particular features such as fountains or prize plants. Seating in key areas can give the look of a formal garden and provide easier access for you to take care of your garden.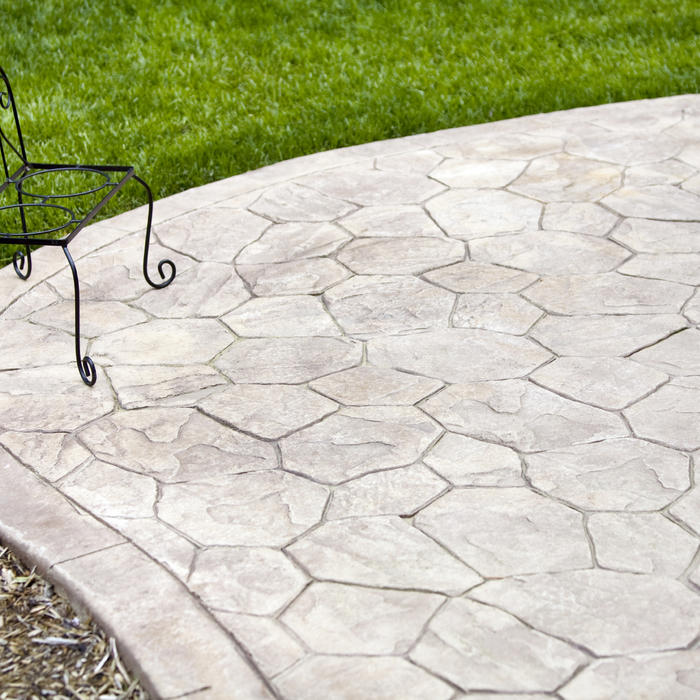 Up With Concrete Stamping!
Concrete stamping isn't just for the patio itself. It can be used to make countertops more interesting while having them match the patio, and mixes have been developed that work well with vertical surfaces. Mix and match patterns for an interesting look and to keep things from appearing too uniform.
In Conclusion
Stamped concrete patios are an attractive and versatile compromise between having an inexpensive but plain, grey slab and having a bank-breaking field of fancy stone work. With so many patterns, colors, and finishes to choose from, stamped concrete patios, driveways, and walkways are an affordable way to put your own style into your property.
Thank you for submitting your feedback.