Critter Control Costs
Wild animal control and removal costs $364 on average with a typical range of $188 and $554. Pest companies charge either a flat fee or a minimum service call fee between $150 to $250 with an hourly rate between $50 and $250 after the first hour. Budget friendly and humane DIY methods with animal traps runs anywhere from $50 to $350.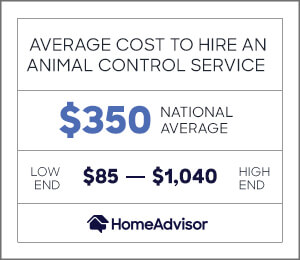 Infestations take many forms: bats, rats, mice, birds, squirrels, racoons, skunks and feral cats. Rats and mice are slightly less at $300 on average. Removing raccoons and squirrels are one of the costliest projects running $200 to $1,500 or more depending on the size of the infestation and the amount of damage caused.
Off-the-shelf poisons may seem like a cheap and attractive option, but these products are dangerous to pets and children when administered improperly. To keep your family and pets safe, contact a wildlife removal specialist for a consultation.
Thank you for submitting your feedback.