Cost to Build a Closet
Adding a closet to a room will increase its utility and eliminate extra clutter. The average cost to build a closet is around $2,020, but there are several additional factors that can affect costs. Here are some major factors to keep in mind when considering installing a closet.
Types of Closets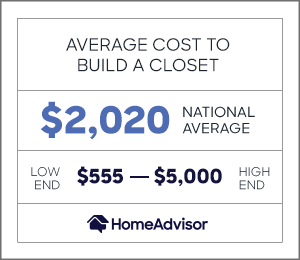 Closets come in two types: Walk-in closets and reach-in closets. A professional will survey your room and determine which type of closet will suit your space. Some closets require the addition of extra walls, while others use existing walls as part of their construction. The more complicated the closet design, the more expensive the installation will be.
The average cost of a walk-in closet is about $1,500. But extra features and elaborate designs can bump up prices. Walk-in closets are most common in master bedrooms because of their versatility and storage options. Walk-ins can either be a few square feet or half of a bedroom. You can also add amenities like a vanity, center island or dressing area. You'll want a walk-in that is at least 6.5 feet wide. You will also need to consider the corners and angles for optimal utilization.
Reach-In Closet Costs
Reach-in closets are common in smaller bedrooms, hallways and front-of-house areas. Building a reach-in closet will cost about $1,000 to $2,500, depending on the design. The simplest construction includes a single rod to hang clothing. But, with the right accessories, you can make your reach-in almost as functional as a walk-in. For example, add wires or mounting systems for more storage options. There are also stackable bins and drawer units that will boost usability. Avoid clutter to maximize the utility of your reach-in closet.
Custom Closet Cost
If reach-in or walk-in designs don't work for your home, consider building a custom closet. For a regular custom closet -- 9 feet by 9 feet with three new walls -- expect to pay anywhere from $1,000 to $6,500. Keep these factors in mind when building a custom closet:
Materials: The materials you choose will affect the total cost of your closet. Choose metal over wood where possible. Drywall will take more time and effort to finish than other materials. Expect an additional hike in prices if you're considering new flooring.
Location: Expect to pay more in total costs -- and possibly permits -- if your closet's location involves making structural changes to your home. Always install new closets in the areas of your home with natural framing. A builder can point out the best spots for a new closet.
Design: The complexity of your design will impact your price. Additional shelving, drawers and other organizational features come with a price tag.
Lighting: You will need an electrician to wire your closet if you don't have existing lighting. Consult HomeAdvisor's True Cost Guide for average costs.
Storage: Storage options are also a major factor when building a custom closet. Utilize reach-in closet storage, like bins and mounted racks, for less money. If you want cabinets and built-in shelving, expect a higher price tag.
Closet Organization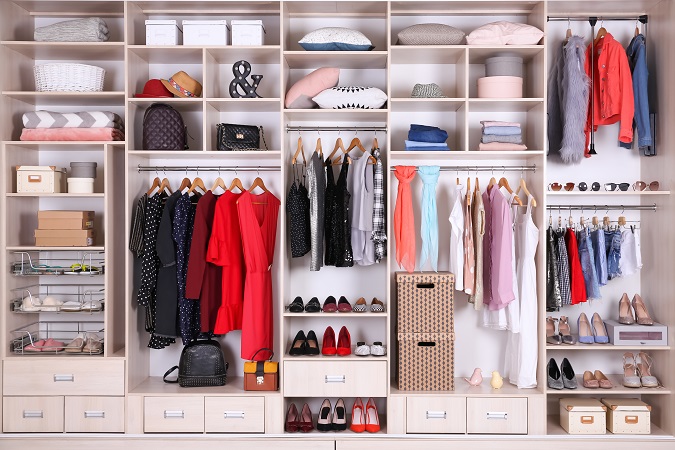 Organizing your closet is essential. A custom-built organizational system will offer personalized solutions to keep your closet clean. If you're considering custom organization, expect additional expenses. Store-bought items are cost-effective and efficient methods of coordinating your closet.
If you're not in the market for custom organization, consider these budget-friendly solutions:
Shelving units: A good set of shelves can help you hide shoes and clothing. Most department stores and online furniture retailers have large selections of shelving units.
Hanging bags: Canvas bags can hold items not suited for hangers. You can put them in drawers, under your bed or on a closet rod.
Valet rods: You can install valet rods on the side of a shelf. These rods provide more hanging room for clothing.
Shoe boxes: If you want to find your shoes without digging, think about plastic shoe boxes. Boxing your shoes keeps them in one place and eliminates searching.
Plastic bins: For smaller closets, plastic bins are a lifesaver. You can store seasonal clothing and rarely used items like formalwear.
Compare Quotes to Build a Closet
Permits and Building Codes
Some local municipalities require permits before building a closet. Research the necessary licenses for your area before you begin construction. Up-to-code improvements to your home will make selling your house easier and help you avoid fines.
Permits may sound like a hassle, but even simple closet additions must meet structural codes. Check with a local city planner to find out about permits before you begin building.
Built-in Wardrobe Costs
If you'd like more closet space, but aren't ready for a pricey installation, consider adding a built-in wardrobe. You can create storage solutions in an underutilized part of your home for less than the cost of new construction. You will still need to include features similar to closets, but the total cost and time will be far less than building from scratch. If you have the space for a wardrobe, expect to pay about $2,000 for the entire project.
What's the difference between a closet and a wardrobe?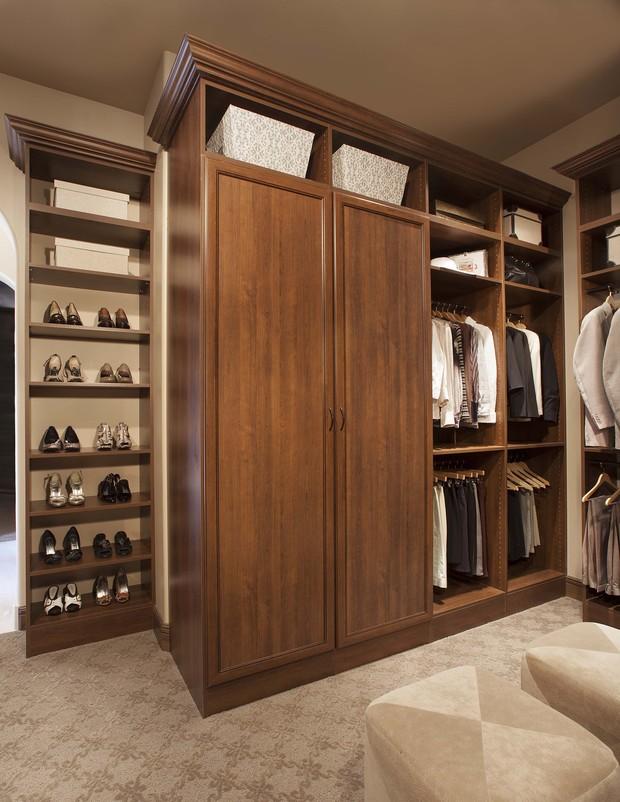 Closets and wardrobes differ according to size. A wardrobe is a large space used for storing items. Closets, unless they are walk-ins, are considered smaller spaces for keeping clothes, shoes or other household items.
Other ways to differentiate between a wardrobe and closet are:
Wardrobes are considered big enough to hold all of your clothing. Closets can hold some clothing but you will need to store extras in alternative places.
Theatres use wardrobes to store costumes. Imagine the size of a typical theater wardrobe. If your space doesn't stack up, you probably have a closet.
These are only some of the ways you can tell the difference between wardrobes and closets. If you aren't certain about whether you have one or the other, you can always ask a designer or builder for an opinion.
Still Have Questions About Installing a Closet?
Thank you for submitting your feedback.