Mudjacking Cost
The cost of leveling, or mudjacking, a concrete surface typically ranges between $574 and $1,502, with the average being $1,036. However, it can be as low as $300 or as high as $2,200 depending on the size and condition of the area you need to level.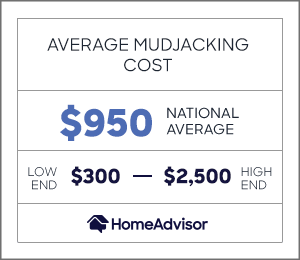 On This Page:
The average cost of mudjacking is between $3 and $6 per square foot, which is 25% to 50% less than the cost of replacing the slab. Mudjacking is the process of pumping a slurry composed of water, cement and dirt under a slab in order to lift it. It usually lasts from 5 to 10 years, assuming the surface doesn't need to continually support a load. These surfaces include the following:
Driveways
Patios
Pool decks
Porches
Steps
Walkways
Find Local Concrete Leveling Pros
The cost of pumping polyurethane foam under a concrete surface, or "polyjacking," ranges from $5 to $25 per square foot. The primary cost variable is the specific composition of material, since companies like Polylevel each use their own proprietary formulas. Polyjacking lasts longer than mudjacking and can cure in as little as 30 minutes, making it more convenient for homeowners. This technique is also better for load-bearing surfaces such as basements, garage floors and foundations.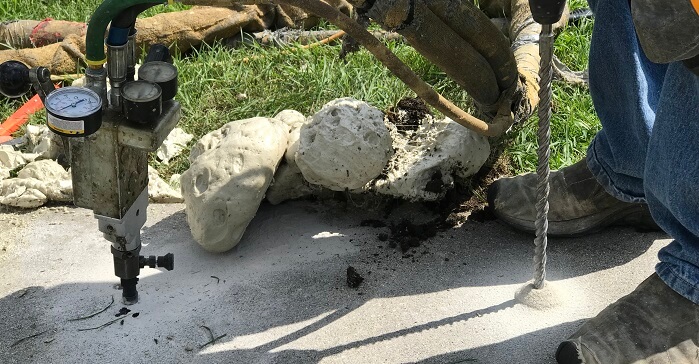 Foundation professional injects foam to level or mudjack concrete.
Sandjacking costs between $3 and $7 per square foot, largely depending on the composition of the slurry. This process is a more specific term for mudjacking that uses a slurry with a sand base, typically dry limestone sand. It's less invasive than standard mudjacking, since the operator can pump the slurry in from under the sides without drilling holes in the slab. Sandjacking is best for areas where the soil usually stays wet.
The cost of slabjacking can range from $3 to $16.70 per square foot depending on the type of surface that you're raising. The specific cost and process also depends on variables such as the size of the slab, the load it must bear and whether that load is static or dynamic. Mudjacking contractors in your area often refer to mudjacking as slabjacking when the surface they're raising is a solid concrete slab. Surfaces that contractors often raise with slabjacking include foundations, driveways and sidewalks.
Get Quotes From Local Concrete Levelers
Foundation Jacking Cost
Mudjacking a foundation costs between $3 and $6 per square foot, so a 1,500-square-foot foundation will cost $4,500 to $9,000 to level. The cost of foam jacking ranges from $6.70 to $16.70 per square foot, or $10,000 to $25,000 for a 1,500-square-foot foundation. The most important benefit of foundation jacking is to correct uneven concrete and add structural support. These issues can be serious, requiring prompt action.
Driveway Leveling Cost
A partial drive of 200 square feet costs $600 to $1,200 to mudjack, and $1,400 to $3,000 to foam jack. A full driveway of 450 square feet costs $1,400 to $2,700 to mudjack, and $3,000 to $7,000 to foam jack. The cost per square foot is the same as a foundation, but you can level a driveway by mudjacking since it doesn't need to bear a constant load. The most common cause of a sinking driveway is downspouts pouring water next to the slab when it rains.
Sidewalk Jacking Cost
A sidewalk with an area of 100 square feet costs between $300 and $600 for mudjacking and $800 to $1,800 for foam jacking. These prices assume the sidewalk doesn't have obstructions on the side such as bushes and trees, which require more time to level due to the sidewalk's restricted access. Empty spaces under the sidewalk also increase the cost if they're more than a couple of inches deep.
Talk to Concrete Leveling Pros Near You
The range of $550 to $1,400 for leveling a concrete floor in one room accounts for several cost variables. The cost of the material itself is usually the biggest variable, followed by the length and terms of the warranty. The specific leveling technique also has a significant effect on price. Furthermore, local foundation repair contractors vary quite a bit in their labor charges, depending on your area.
Self-Leveling Concrete Cost
Self-leveling concrete costs $1 to $5 per square foot, not including labor. It can be significantly cheaper than mudjacking, but you can only use it if the slab hasn't sunk more than an inch. You shouldn't use self-leveling concrete for basement floors at all, regardless of the degree of sinking. In addition, this type of concrete requires you to repair erosion and other serious foundation problems before using it.
Garage Floor Leveling Cost
You can mudjack a single section of a garage floor for about $300 if the rest of the floor is in good shape. Otherwise, the cost of mudjacking an entire 2-car garage ranges from $1,100 to $2,200. Identifying the cause of the sinking before you proceed is vital, since it may require additional work first. For example, deep erosion on the side of the garage may require a structural repair with piers instead of mudjacking.
Compare Quotes From Concrete Leveling Pros Near You
The size of the area you need to lift is the biggest factor in deciding whether you can perform a concrete-lifting project yourself. A slab with an area no greater than four square feet is possible for an DIYer experienced with concrete. However, larger slabs require house leveling contractors near you with mudjacking equipment. The high density of concrete requires weight-bearing equipment to avoid cracking the slab.
How much does it cost to level a house on a slab?
It typically costs between $6.70 and $16.70 per square foot to level a house on a slab. This process is more expensive than other types of concrete leveling because the slab must support a constant load.
What's the difference between mudjacking and foam jacking?
The primary difference between mudjacking and foam jacking is the material used to support the slab. Mudjacking uses some type of concrete, while foam jacking uses a polyurethane foam. Foam jacking also requires higher pressure to push the foam under the slab.
How do I know if my foundation needs to be leveled?
The most significant warning signs that your foundation requires leveling are growing cracks in your slab. Multiple doors and windows in your house that no longer close properly may also indicate that you need to level your slab.
What types of surfaces can be leveled?
Surface leveling is generally restricted to some type of concrete. Mudjacking is most common for non-load bearing surfaces, while foam jacking is preferred for load-bearing surfaces.
When does mudjacking not work?
You shouldn't use mudjacking for load-bearing slabs because concrete is too thick to fill thin cracks. Retaining walls or other obstructions that are too close to the slab may also make also make mudjacking impractical.
Still Have Questions About Concrete Leveling?
Thank you for submitting your feedback.