Mudjacking Cost
The average cost to mudjack or level a surface averages between
$547 and $1,348
. Most homeowners pay an average of
$937
, though the cost can be as low as
$300
or as high as
$2,200
depending on the size and condition of the foundation or area.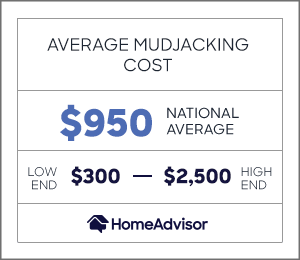 Foundation problems are among the most serious issues any home can experience. Concrete leveling is most often used in situations where a concrete foundation has cracked or sagged, and the sagging areas need to be brought level to support the structure. A sagging foundation, of course, can negatively impact your home in a variety of ways. If you are worried about the cost of concrete slab leveling, here are your options.
Estimating the Cost of Foundation Leveling
The cost to level a concrete foundation ranges between $547 and $1,348. There are many factors that could influence the total price including the size of the foundation and amount of materials needed. Look for professionals that use high-quality materials, which may add to the concrete slab cost but ensures quality. Another step is to ask for a quality warranty that ensures lasting benefits.
Regardless of the situation that you find yourself in, you should always work with a professional to level your foundation. Whether that professional recommends mudjacking or foam leveling, each process requires both expertise and the right equipment for the job.
Get Local Estimates For Mudjacking or Leveling a Foundation
For any home with a slab foundation, the options for leveling concrete come down to two general techniques: mudjacking and foam leveling. If you don't want to spend all of your budget on a complete replacement, mudjacking has traditionally been the preferred option for most professionals looking to fix your foundation. Increasingly, though, foam leveling is becoming popular as well. If you're looking to decide between the two, consider these differences:
Mudjacking vs. Polyurethane Foam
| | Mudjacking | Foam |
| --- | --- | --- |
| Material Cost | Cheaper$2-$5 per sq. ft. | More expensive$8-$25 per sq. ft. |
| Material Weight | 100-120 lbs. per cubic ft. | 3-8 lbs. per cubic ft. |
| Invasive | Slightly invasive | Noninvasive |
| Longevity | 5-10 years | Longer-term fixNo frost-heaving |
| Best For | Non-load-bearing concreteDriveways | Load-bearing concreteHome foundations |
Concrete leveling, also referred to as "mudjacking" or "slab jacking," is a method by which concrete is poured or pumped under an existing concrete slab that has been cracked to level out the different areas and make the surface flat again. Mudjacking can be used for cement floor leveling, concrete patio leveling - basically any cement slab repair can be fixed permanently with concrete leveling. In this process, holes are drilled in the concrete slab around the area that is cracked or sagging, and new concrete is pumped into those holes to "jack up," or raise the level of the concrete that is causing the problem.
Professionals have long used mudjacking to improve and level foundations because of the variety of benefits associated with the technique. Mudjacking is relatively noninvasive, only requiring a number of 1" to 1" to 2" holes in your foundation, and thus not destroying the landscape around the affected area. In addition, the technique comes with significant cost and time benefits, typically costing half the budget and only requiring a fraction of the time it would take to remove and repair your existing foundation.
In many ways, leveling your foundation using foam is similar to mudjacking. The major difference, however, lies in the material injected through the holes your contractor will drill into the concrete slab. Foam leveling centers around injecting polyurethane foam into your foundation. This foam is pushed under the slab at higher pressure rates than the concrete used in mudjacking, and expands to become a structural foam that helps to lift your foundation. The result is a variety of benefits for your foundation.
Polyurethane foam is more expensive, but tends to be a stronger and longer-lasting alternative to mudjacking. The foam used cures in as little as 30 minutes, which reduces the inconvenience for homeowners that any foundation repair entails.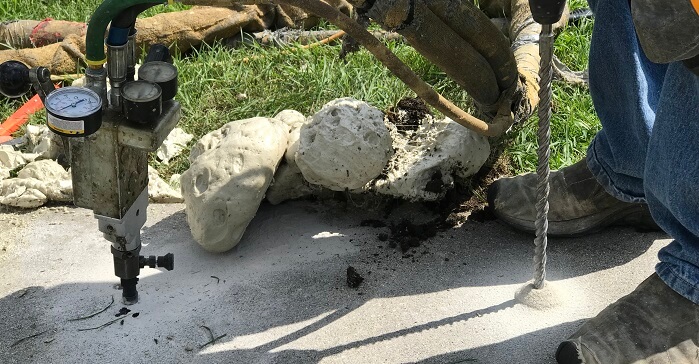 Foundation professional injects foam to level or mudjack concrete.
The warning signs of a failing or sagging foundation are sometimes subtle. Because of shifting and settling soil, you may begin to see cracks in your slabs. In the home, doors and windows may no longer close properly. When these warning signs occur, it's time to consider the cause.
Not every foundation repair, of course, requires leveling. If your foundation consists of steel beams, for example, your issues cannot easily be solved with mudjacking or foam leveling. But when your home sits on a slab foundation, and you begin to discover one of the many common signs of foundation failure, it's time to consider your options.
What Surfaces Lend Themselves to Foundation Leveling?
Naturally, the both mudjacking and foam leveling are designed for concrete surfaces. Beyond that restriction, some individual differences do apply. For mudjacking, potential applications range from basement floors to patios, garage floors, steps, and even walkways. The relative noninvasive process means that even pool decks, driveways, and other aspects of your home can benefit from mudjacking.
Foam leveling, on the other hand, is especially beneficial for areas that are load bearing. While mudjacking continues to work well for parts of your foundation (and other areas around your home) that are not load bearing, some of the most significant parts of the foundation do not fit within those categories. For those parts, foam leveling may be your better choice. Fixing the part of the foundation that may include a load bearing wall, for example, may be more reliably repaired using foam leveling. Depending on the foam used, it can provide between 7,200 and 14,000 lbs per square ft of support--more than enough for most homes.
When is it Not Okay to Mudjack?
Of course, mudjacking is not applicable or beneficial in any situation. Some experts warn against using it for the load bearing parts of your foundation, specifically because the thickness of the 'mud' prevents it from getting into every crack. As a result, the soil does not stabilize 100%, and could sink again over time. The solution is typically to drill more holes for a greater cover.
At the same time, that decreases the noninvasive benefits of the process, decreasing the effectiveness of the fix. In addition, retaining walls too close to the area you're looking to mudjack may prevent a professional from going through the process in a safe, successful way. And if the concrete has already cracked, mudjacking may not be effective in effectively leveling your foundation or concrete. Despite the above examples, mudjacking is never dangerous for your home. It may, however, mean that if you use the technique for the load bearing parts of your foundation, the fix may only be temporary. Some situations, in other words, call for a different technique to level your foundation.
Hire a Local Mudjacking Professional
Thank you for submitting your feedback.